Platform: Android
Store: Google Play
Product Type: Monthly Subscription
RevenueCat Purchases Version: com.revenuecat.purchases:purchases:5.1.0
A customer of our app from Moldova (Republic of Moldova) reported today that the price displayed in the app (9.49 USD) was not the price that he ended up paying (11.39 USD). 
Looking at the email receipt he sent us from Google, the extra 1.90 USD is labeled as Tax.
I went in the Google Play Console where we can set our price for each country, and the price there is 9.49 USD → no sign of any VAT. I did a Google Search and the default VAT for Moldova is 20%, which matches the extra Tax from the transaction.
I then checked RevenueCat, including the webhook for that specific transaction, and there is no trace of tax. The price is 9.49 and also, in the webhook, the `tax_percentage` field is 0.
Then I found out that this is the case for all transactions made from that country, RevenueCat doesn't know about the tax there.
The biggest problem now is that for users from Moldova, we would like to display the full price the user will end up paying, including tax. Is there a way to know that price from the Purchases SDK? Currently, we're using the `priceAmountMicros` from the `StoreProduct` instance in the purchases SDK.
More info that can be useful:
The developer account is located outside of Moldova
This is what I found in Google Play's docs regarding VAT in Moldova.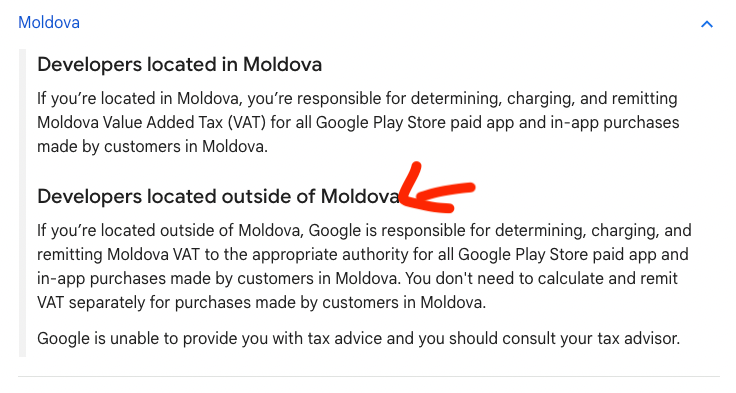 Full disclosure, I was not able to manually simulate this case. As I live in another country, I tried using a VPN on my test device but I still wasn't able to see the price from Moldova on my device.
Thank you for your time!