Hi Folks,
I really want to love RevenueCat since it comes so highly recommended by so many people, but I'm having a few issues that are making that hard. 
The first is that the Customers List page (https://app.revenuecat.com/lists/) is very slow - a fresh load takes ~6 seconds before any information is shown. Looks like there are 2-3 requests that are queuing in the backend to me (me, subscriber_lists and manifest).  These requests are taking nearly ~2s each.
The `query` request can also be slow, around ~1s. 
Timing from Safari:



And query:

Note that I have less than 10 customers, I am a little worried about what might happen when I (hopefully) have hundreds.
The second problem is that (unless I'm doing something wrong, which is very possible) even after I've waited for the list to load it doesn't appear to accurately reflect the state of my subscribers. For instance, if I register a new customer via AnonymousID it doesn't appear in any of the lists, I need to search specifically for that ID in order to get to the customer details. At first I thought this just might be slow, but I left it overnight and it still didn't update (I'm not 100% on this but it seems like the _latest_ new customer is not represented at all times, so perhaps there's a cache there that's not updating properly? I'm totally guessing since).
Then, the third problem is (possibly related to the second) after I've waited for the page to load, figured out how to search down my customer, the individual page doesn't seem to reflect the same subscription status as the API. 
As you can see in this screenshot, the results from my `Purchases.shared.getCustomerInfo` call in-app are showing me that my entitlement is active, hence why I'm getting the "Thank you for your support" screen. However, the customer information doesn't show any active entitlements or subscriptions (it's a little confusing as to which, since the box titled "Entitlements" says "no active subscriptions" - which is it, entitlements or subscriptions?) Additionally (and it may be an artefact of Xcode testing) there's no revenue booked against the customer despite the subscription being processed successfully.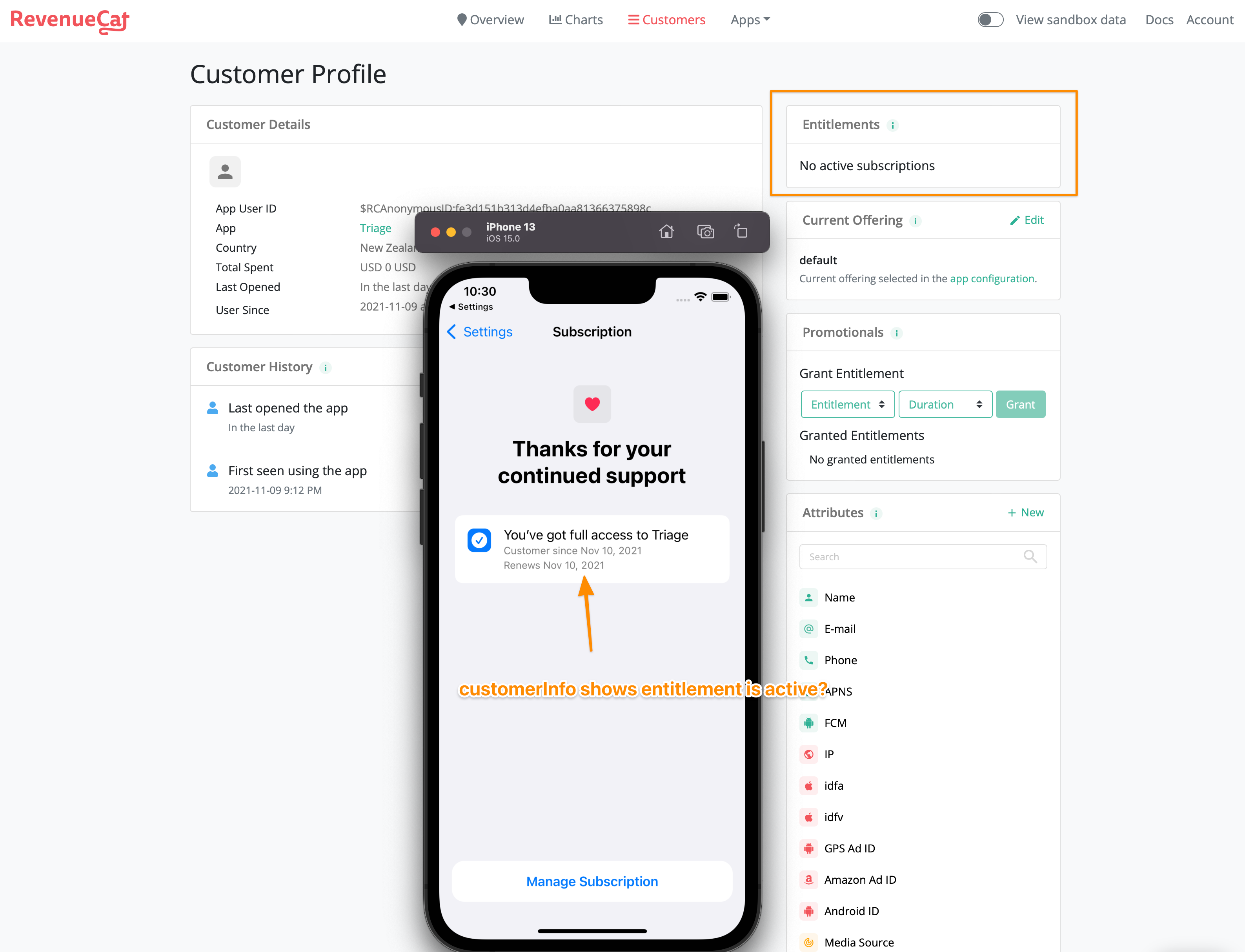 I'm new to this, so apologies if I've misunderstood how these things work. For now I'm going to assume I've implemented everything successfully and move on and not worry too much about the view on Revenue Cat :) 
Thanks,
Nik